Never forget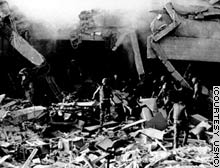 Today marks the 23rd anniversary of the Beirut Barracks bombing. 241 US Servicemen died that day and another 100 were injured.

Say a prayer for these men and don't forget there are people still out there who would want to repeat this terrible attrocity or one many times worse.

Below is an article from today's Bradenton Herald . A memorial service was held this weekend in Manatee County for all those who died.

Linked to- Bright & Early, Right Wing Nation, Jo's Cafe, Basil's Blog, Cao's Blog, Third World County, Pirate's Cove, Dumb Ox,
PALMETTO - The young Marine still vividly remembers the blast years ago that knocked him out of bed.
Bryan Westrick was stationed in Beirut with the international peacekeeping force Oct. 23, 1983, when a truck-bomb explosion ripped through a nearby barracks, killing 241 Marines, sailors and soldiers, and wounding more than 100 others.
"I was trying to get those last 2-3 minutes of sleep," he said. "It blew me 10 feet off my cot."
Twenty-three years later, Westrick was one of the more than 130 people in attendance at a memorial service held in Sutton Park on Sunday to honor those who were killed.
He remembered he had just turned 19 and was housed in another building at the Beirut International Airport compound, about 150 yards away from the Battalion Landing Team headquarters building that was destroyed.
"I thought we took a direct hit - we've been receiving small arms fire every day," said Westrick, who joined the Marines when he was living in Indianapolis. He now is from Myakka.
It was not until he came out of his building that he realized the enormity of the damage.
"Coming around the corner, that building stood tall," Westrick said, choking back tears. "and now it wasn't there."
The ceremony Sunday afternoon was emotional for Westrick, not only because he experienced the bombing but because two of his friends were killed while serving in Beirut prior to that attack.
The memorial service affected many of those in attendance, especially as the names of the victims were read.
While women from the Marine Moms of Manatee County, the Florida Navy Moms, and the Army Moms of Manatee read the names one by one, the cadence of a lone drummer filled the air.
"I couldn't believe how emotional we all got as we read the names," said Katie Powers, one of the Marine Moms who had helped organize the service.
"Especially to watch the people bring the roses up and put them in the basket (at the foot of a memorial wreath)," said Powers, whose two sons are Marines who served in Iraq. "It made me grateful that so many people came to honor those who died."
That was the point Palmetto Mayor Larry Bustle made during his address.
"We must honor and respect those who died for their country," said Bustle, who is a retired Air Force colonel. "Their deaths are as important as those who died at Iwo Jima or Normandy."
The mayor said the bombing of the Marine barracks in Beirut was the beginning of the terrorist movement we see thriving in the world.
"It's important to reflect on that event," Bustle said, "and look at the parallels of the events of today."
Honor guards from the Army, Air Force, Navy, Marines, National Guard and other service organizations stood at attention during the entire rollcall of names.
With a 21-gun salute and the playing of Taps, the 241 fallen heroes were given final honors.
To Esther Buckmaster, having a formal service locally was important.
Her son, Cpl. John Buckmaster, died in the barracks explosion on Oct. 23, 1983.
"I'm not able to go to the service at Camp Lejeune (N.C.)," she said, "and I thought everyone forgot, but this was magnificent."
Cpl. John Buckmaster was 21 when he served in Beirut and following in his father's footsteps when he joined the Marines.
Esther Buckmaster, whose husband, Arley, recently passed away, said when she first heard about the bombing on the news she was not concerned because her son was there for a peace mission.
"It was probably three days before we had an officer come to the door to tell us John was killed," she said.
Throughout the years, Esther Buckmaster still remembers the emotions of that time.
"I don't like to listen to television," she said. "I hear about the casualties in Iraq and it's like deja vu.
Mike Toma, of Lutz, stood with the rest of crowd as the Pledge of Allegiance was recited, and Sunny Matthews sang the National Anthem.
Toma was a 19-year-old lance corporal in the Marines asleep in the barracks on that fateful day in 1983.
His bunk was on the second floor in a small section of the building that did not collapse.
"We had been getting hit with artillery and I thought it just hit our side of the building," Toma said.
He was in a lot pain, falling in and out of consciousness and not really sure what happened.
"They pulled me out and I saw the sky," Toma said. "At that point I realized the building was gone."
Fifteen of 19 fellow Marines in his TOW unit were killed.
He tries to make the trip to Camp Lejeune for the annual memorial service, but can only do it occasionally.
When he heard about the one in Palmetto, he was glad to make the drive from Pasco County.
The remembrance service was one of only a handful of similar events happening throughout the country this weekend.
Powers, of the Marine Moms, said Bill Kibler, of Washington, D.C., encouraged her to organize a local memorial service.
Kibler, who served in Beirut as a Marine from October 1982 to February 1983, was organizing a three-day Beirut Remembrance Walk this weekend and Powers was planning on attending.
When Kibler said a local event would be more meaningful, Powers talked to the Marine Corps League, an organization of former Marine veterans.
To make sure the men who died in Beirut - not only those who perished in the barracks bombing, but all those who lost their lives during the peacekeeping mission - are remembered, two mothers of fallen Marines, Judith Young and Joan Muffler, have started a campaign to get the U.S. Postal Service to issue a 25th anniversary commemorative stamp.
For more information about that initiative, go to www.beirutstamp.com.